What the warmer Australian months can do to your home
You've probably seen and felt the difference in the Australian weather and how much hotter and uncomfortable the seasons can be.
It can make a huge difference to how much you enjoy your home and garden, especially if you aren't ready for the increase in the Australian heat.
With the added intensity of the Australian sunshine, there is more reason than ever to protect not just your plants and lawn, but the exterior timber finishes of your furniture and decking.
Nothing looks less appealing and brings a shabbiness to a home than the wrong or badly faded timber finishes. They can even make the timber itself seem inferior in quality as well as aged and worn before their time.
How do you protect your home and get better prepared for the hotter days?
How to prep for the harsh Australian climate
It doesn't matter where you are in Australia, you need to have your home ready for whatever the Australian climate can throw at you.
As the environment changes and the weather continues to get hotter, there is a multitude of changes that can occur.
These can be anything from damage to your home, premature aging of outdoor furniture and decking to harmful effects seen throughout your garden.
Whilst your outdoor timberwork can be protected with the right preparation, stain and timber sealer, your decking will need different attention if it is to weather the conditions well.
Using a quality deck cleaner, you can do wonders to bring even a well-worn decking back to its best.
Clean the deck of dirt, leaves and twigs with a broom and then spray the decking with a high-pressure cleaning hose can do the hard work.
This is when an air compressor can come in handy especially, for decking that has been damaged by UV rays from the harsh Australian sun. Using pneumatic tools is far easier and often does a better job than everyday power tools.
The key is to make sure you have had an air compressor service on the unit before you start the job. The last thing you need is to have something falter halfway through restoring your deck.
Unwanted visitors in the warmer months
You may have some unlikely and even unwanted visitors drop by in the warmer seasons. This is not troublesome relatives or nosy neighbors. Pests and insects are more likely to invade your private space because of the change in the weather.
Probably the most dangerous and damaging pest is the termite.
While termite season does vary from one year to another and depends on where you are living in Australia, the fact is that termites are more active in the months of late Spring and early Summer.
To be sure that your home is safe from the serious damage that termites can do without you knowing, it pays to enlist the help of a professional and trusted termite pest control team.
This is a pest that is active all year round but termite swarms are more prevalent after the last rains of Spring and the Summer weather begins.
The best thing you can do is take the chance to get true pest control experts out to inspect your home and garden before you have a problem. If they do detect any issues, then you will be ready to follow their advice and get on top of the pest control problem as soon as possible.
Fixing your place to make the most of your space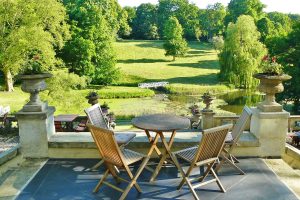 There are some fairly simple but very effective things you can do to make your home ready for the Australian heat no matter where you live.
With a list of improvements and maintenance items, you can have your place looking its best for the coming entertaining season.
This is your chance to get your home and garden shining bright again. The list can include:
Trimming back trees and bushes (just remember to maintain areas of shade)
Clean your fences, external walls, windows and eaves
Freshen up your outdoor furniture including cushions
Add a new element to your garden (even one new pot plant can jazz up the whole place)
Check your doors and windows are properly insulated before pests make their visits
Clean your air-conditioner or have it serviced if it is not performing to its best
Do a full inspection of your property to see if there are unwanted items around
By looking thoroughly throughout your home and garden areas, you can often be surprised by things that have been forgotten or neglected such as possible hard waste that is hidden away but not yet disposed of. Sometimes there can be piles of firewood or garden tools that have suffered from the elements.
This is the perfect time to get your place back to its best so you have a better chance of enjoying the warmer weather and more time outdoors.
Ready to get more out of your Summer months
Once you have checked your place, it's time to tackle those cleaning and preparation jobs. Remember to do them with some sort of system and one by one. There is no point overdoing it all and trying to get all your prep work done in a single weekend.
That can only make things stressful, tiresome and leave the door open to giving up because it all seems too much to handle.
Trimming trees, shrubs and bushes is one task. Full and proper cleaning of the barbeque is another. Putting all your energy into a complete weeding of the garden, trimming and pruning, mowing the lawn, repotting plants and whatever else needs doing can take a toll on your well-being.
Your home and garden are two special things that you should enjoy. Making everything a long sequence of arduous tasks that wears you out and brings you down is an avoidable mistake.
With a well-set and workable plan in hand, you can calmly and cleverly make your home ready for the Australian heat and enjoy the best it has to offer.