The Officeworks 3D Experience Centre takes customers on a journey to discover the new limits of what's possible in 3D printing; the first of its kind for any major retailer in Australia.
Officeworks' innovative 3D Experience Centre is taking Australian retail in a bold new direction. It's an opportunity for Officeworks to diversify their offer and ensure the company's ability to be a strong competitor in future markets.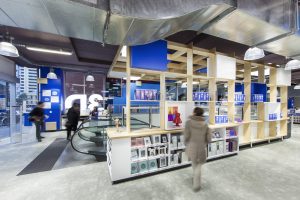 The store design offers a seamless journey through the full offer, with the creation of 3D-pixel elements linking each zone to the next. A warm industrial palette of plywood and concrete is highlighted with blue resin and paint, accented with bold wall infographics. Columns become a feature, clad in bright colours and feature key messages.
The experience includes a one-of-a-kind Mini Me photo booth, which scans and prints people into lifelike figures; 3D models; 3D printer hardware and consumables; and 3D scanning. Standard photo printing was provided with a better experience through the addition of more privacy and the inclusion of an Espresso Book Printing machine.
The response of the opening of Officeworks' 3D Experience Centre was overwhelmingly positive. People approached the technology with curious minds and have explored the limits of what's possible with in-store trials.
As a result, the 3D hardware has resonated and engaged a wide range of people, much more than was anticipated.
If you can imagine it, you can print it. The creation of the best-in-class print experience was paramount to achieve Officeworks' goal of being the first national Australian retailer to market with such an offer, as well as maintaining print sales in a declining market and achieving significant incremental sales for 3D printing services and products.
The success of this project would pave the way for future 3D Experience Centres in others states across the country. Customer engagement and education was key in developing a potentially extensive customer base, ensuring the process is accessible and easy to understand.
The sustainable material selection was a priority with birch plywood selected for its complimentary qualities to the timber veneer and to fit within budget constraints. Birch was selected to meet Australian environmental standards for low emissions.
All paint finishes feature low VOC and new LED lighting was installed throughout.
3D printing was entirely new to the Australian consumer market and the store required the inclusion of clear concise information to educate customers.
The store design was an entirely new concept for a retailer that historically has a firmly established internal client design department.
The retail space was dominated by a central two-way escalator to the basement. The final design of pixel-type boxes embraced the void above the escalator, creating a more cohesive store experience.
A warmer environment was created through the inclusion of using a cost-effective material like plywood for a majority of the interior elements.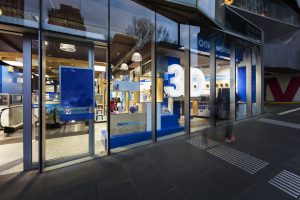 The Officeworks 3D Experience, Russell Street Melbourne
Architecture & Interior Design: The Great Indoors
Brand Design: Landor
Awards: Melbourne Design Award for Best Service Retail & Finalists at Popai Awards
[TheChamp-FB-Comments]
Latest posts by Lee Hopkinson
(see all)